Income Generation & Building Capacity Conference 2019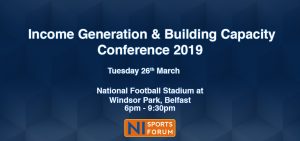 Tuesday 26 March 2019 at the National Football Stadium, Windsor Park at 6pm.
This conference will provide National Governing Bodies of sport, their clubs and other sports organisations with some advice and support on how to generate more income for your organisation and also build the capacity of your organisation when planning your activities. There will be an opportunity to learn about funding opportunities, how to maximise income within your current environment whilst also promoting your events and engaging with event attendees and stakeholders.
There will be a range of speakers from Titan Experience, Pundit Arena, Klubfunder, Volunteer Now and Otium Leisure Consultancy supporting this Conference.
Attendance at the evening Conference session can be booked directly on their Azolve platform here or via http://bit.ly/NISF2019
This conference is entirely FREE and supported by Sport NI